1st flying day
I was up quite early in the morning very eager to do something with kites and buggies. But it took quite a while until all the others of us also were up and ready to do something.
In the meantime I really had to unpack some of my kites to draw the first rounds in this amazing Argentinian morning sky. The kite you can see on the picture on the right is a homemade NasaWing 75 on about 8m lines (4 liner) flown by Andrea, one of the organizer of this trip. In the background you can see the skyline of the Andes.
On the top picture you can see Henry trying out his new kite. Here in the background the Pre-Andes are visible, as you can notice a total different type of mountains.
After all got up and we packed everything like tents, kites, bottles of wine (more empty ones than full ones) together we moved towards the flying area on the dry lake: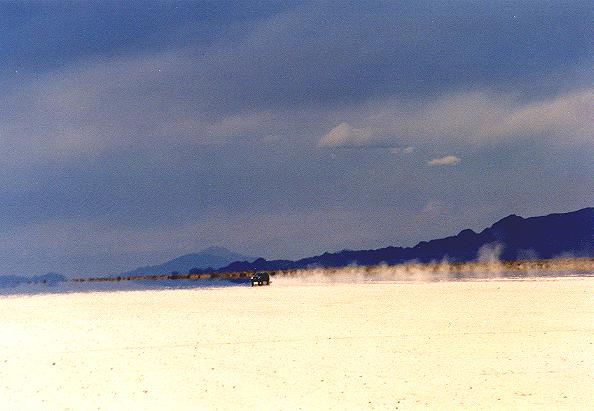 It was allready after high noon when we arrived on the real destination of the trip: the dry lake.
Standing on it, the area even seems to be bigger, just unbelievable.
Huge, 1.5 km to 7 km, flying area of dried mud, hard like concrete. And, despite some tracks of cars which have driven through the wet mud, totally even.
That must be the Paradise of Buggy drivers....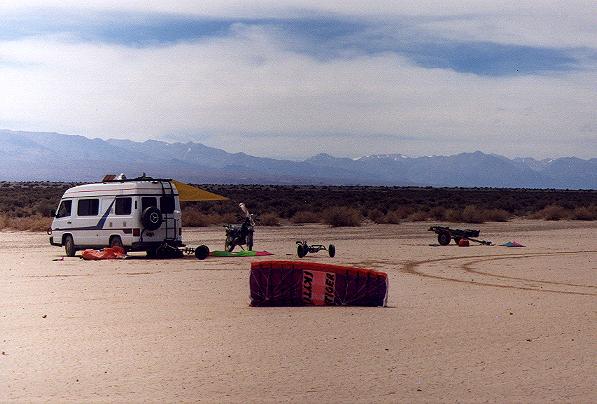 On the westend of the dry lake we built our homebase, unpacking quickly all the equipment used for the hot ride on the buggy:
power kites in all sizes (you've to be prepared for everything), buggies, motorbike for rescuing 'lost buggy pilots'.
We were ready. The only thing missing was the high stable wind we heard a lot of good things about.
The wind was between 0 and about 20 km/h, but the direction changed from south to north and back.....not the ideal wind for flying kites, and definitely not what we expected.
But nevertheless we tried to do some kiting and buggying with our different kites.
Up to then I didn't try my luck in the buggy, as I knew that I definitely need more stable wind to do my first tries. But I was kiting a lot and finetuning the lines of my 1.6 squaremeter big Quadrifoil Q2002.